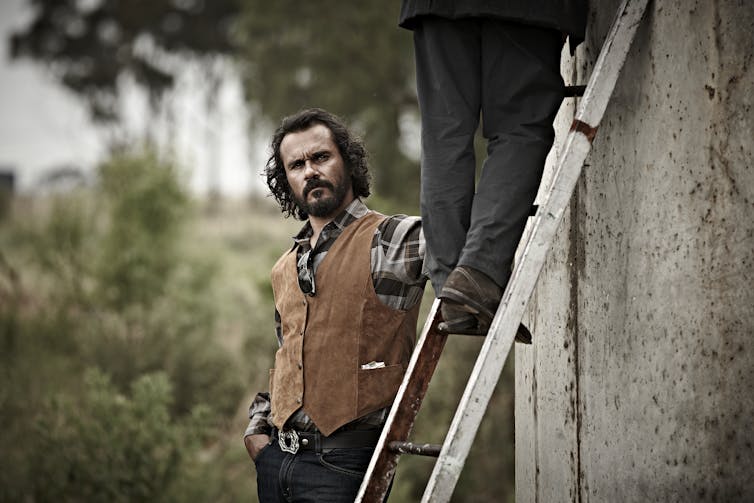 Madeleine De Gabriele, The Conversation
In 1999, there were just two Indigenous actors on Australian television: Aaron Pederson and Heath Bergerson. Today, 5% of all main characters on our small screens are Indigenous, while Indigenous people make up 3% of our population.
This dramatic turnaround is one of the most positive findings of a Screen Australia survey of all 199 dramas aired on Australian television between 2011 and 2015. On screen portrayal of other culturally diverse groups, such as those of non-Anglo Celtic background and those identifying as LGBTQI lags far behind their representation in the community.
The survey, called Seeing ourselves: Reflections on diversity in Australian TV drama, looked at nearly two thousand "main" characters (generally defined as appearing in every episode of a show). The purpose was to track visible diversity, as it's presented to viewers, so a character's sexuality, disability or cultural background was only counted if it was present in story or character elements.
Despite the fact that around 32% of Australians have a cultural background other than Anglo-Celtic, the survey found only 18% of main characters had non-Anglo-Celtic backgrounds.
Around 11% of Australians identify as LGBTQI, but 5% of of TV drama characters are non-straight. The majority of those are gay men, followed by lesbian women; transgender or intersex characters are largely absent.
Encouragingly, children's shows are much more diverse than adult's. Thirteen out of 25 children's programs have main or recurring characters of non-European background. Most of those characters are visibly non-European, rather than being identified through a story line – an important part of normalising diversity on our screens. The actors on children's shows are also young, which bodes well for a growing and diverse talent pool.
Comedy also had more non-Anglo-Celtic characters than other kinds of drama, but plenty of the diversity counted comes from one or two shows. Maximum Choppage (2015-) and Jonah from Tonga (2014-) together accounted for about a third of all non-European actors across all 51 comedy shows counted. Comedian Ronny Chieng was in six comedies across five years.
The huge upswing of Indigenous characters was also largely concentrated in eight programs, all produced with the support of the ABC's Indigenous Department: 8MMM Aboriginal Radio (2015-), Black Comedy (2014-), Gods of Wheat Street (2013-), Ready For This (2015-), The Straits (2012-) and two series plus the telemovie of Redfern Now.
People with a disability had perhaps the highest disparity. Around 18% of Australians had a disability in 2012. In contrast, just 4% of the surveyed characters were identified with a disability. (It's worth noting the study didn't take in the disability status of the actors, looking only at visible story elements.)
While this study adds some much needed data to the debate, surveys of writers and activist groups revealed different opinions on how to address the dearth of diversity. Disability community groups have argued that writers with direct or lived experience are needed to authentically write disabled characters, while some writers maintain that professionals should be trusted to create characters for any background.
It's common for shows to hire consultants with specific expertise – lawyers, for example – to advise writers. This isn't typically available in the area of diversity, which forces writers to do their own research – with mixed results.
Any discussion of diversity on TV quickly heads into "financial reality" territory. Despite 93% of writers, producers and directors who responded to the survey considering their audience to be diverse, they also felt shows with diverse characters took a hit in the ratings.
One of the writers surveyed summed up her experience this way:
Producers will use every excuse under the sun. From 'there's no one good enough' to 'the network won't have it' to 'the experienced star actors can't work with such inexperience'. It makes things too hard. And the biggest one is 'the investors won't invest unless we have a big star' and of course there aren't many big stars from diverse backgrounds. Guess why? Because investors won't invest, networks won't take a risk, producers won't risk pissing off a network.
Ever-increasing production values, spurred on by big-budget blockbusters from HBO and Netflix, have made producers and networks wary of taking a risk on unknown talent. Yet highly diverse shows like The Slap (2011), or the Australian web series Starting from…Now (2014-), which revolves around a lesbian main cast, have done extremely well with international audiences.
The study identified online productions – which are cheaper, less risky and have a much lower barrier to entry – as proof that big audiences exist for so-called "niche" characters and stories. The presence of much greater diversity in the advertising sector argues there's a commercial imperative to connect with these audiences.
Screen Australia used four cultural diversity categories created by the Australian Human Rights Commission, which broadly reflect historical immigration trends: Anglo-Celtic, European, Non-European and Indigenous. Definitions of sexuality and disability were taken from the Sex Discrimination Act and the Disability
Discrimination Act respectively.

Madeleine De Gabriele, Deputy Editor: Energy + Environment, The Conversation
This article is republished from The Conversation under a Creative Commons license. Read the original article.