Multicultural Ageing Services invites you to the CALD Ageing Consumer Network meeting.
Special Guest: Danny McAteer, Department of Health
The Multicultural Ageing Services (MAS) CALD Ageing Consumer Network meetings provide CALD community groups with an invaluable forum for information sharing and discussion on the aged and community care needs of older people from CALD backgrounds.
With the National Ageing and Aged Care Strategy for people from CALD backgrounds, the CHSP Transition, Home Care Standards, etc., it is always timely to canvass a range of issues, ask some questions, and share some ideas . . .
As always, this will be a fun and fact-filled afternoon. A must attend!
Please RSVP to secure your place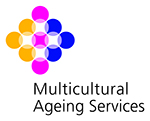 (A division of Multicultural Aged Care)
Funded by the Australian Government Department of Health.
Although funding for this information session has been provided by the Australian Government, the material contained herein does not necessarily represent the views or policies of the Australian Government